Terrific Tulips
November 04
As we enjoy our last warm days of autumn, our thoughts turn toward the future growing season and early emerging tulips that bring us springtime joy.  Fall is the ideal time to plant colorful spring flowering bulbs, like the adored tulip, but nothing can be more frustrating than when they fail to perform.  This can be a result of human error, ravenous critters, or growing conditions.
Tulips come in a glorious array of colors, shapes, and sizes but most are unfortunately annuals and take years of nurturing after blooming before they have enough energy to bloom again.  Darwin hybrid tulips are an exception and will return year after year with splendid color and little extra care.  Carefully read tulip descriptions for perennial attributes.  If it doesn't say that it is perennial, only expect the stunning blooms for one spring.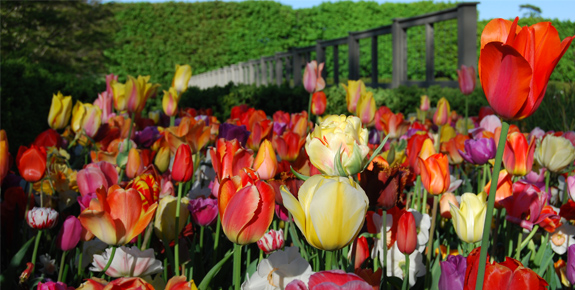 If you have selected perennial tulips, remove any spent flowers before they develop a seed head.  This will ensure that the plant's efforts goes into the bulb rather than into producing seed.  Do not cut back the plant's leaves as they are feeding the bulb energy for next year's flower.  Wait to remove leaves until they start their natural die back and turn yellow on their own.
Bulbs are sold with all of their energy for spring blossoms already established.  Adding bone meal in the bottom of a planting hole can help the bulbs establish strong roots, but it is not necessary.  Bone meal can attract unwanted critters to you garden bed that may dig up bulbs and wreak general havoc on the bulbs you just planted.  Topdressing the planting bed with compost is a much better option than bone meal.  It will provide the necessary nutrients to keep your garden soil healthy and feed all of your garden plants.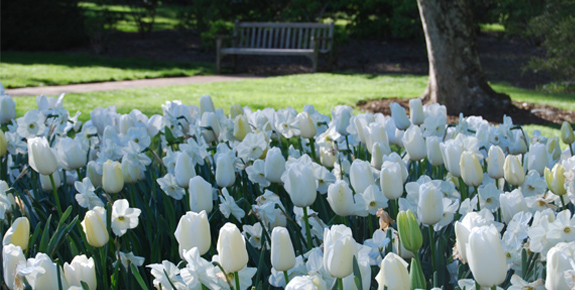 Deer eagerly look for anything green and tasty after winter and tulips are a favorite even when they aren't hungry.  Deer exclusion fencing is the best option to protect precious tulips, and all your other garden plants too!  Deterrent sprays are effect in areas with low to moderate deer pressure.  Consider planting tulips mixed in with plants they tend to avoid, such as grape hyacinths or daffodils.
Avoid planting bulbs in areas that are excessively wet.  Constantly waterlogged soils will invite disease, fungus, pests, and ultimately lead to rotting bulbs.  Follow recommended planting directions to avoid planting bulbs too deep.  Plant bulbs with the pointed tip facing the sky and resting the flat portion of the bulb on the bottom of the hole, ensuring bulbs are orientated correctly for emerging roots and shoots.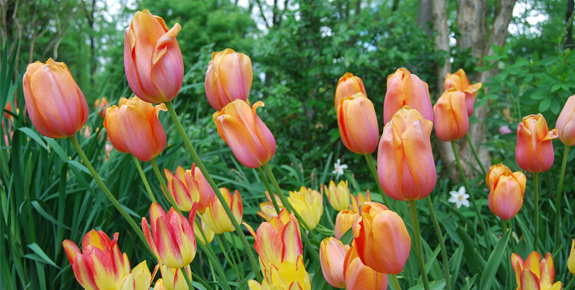 It is not too late to pick up and plant some tulip bulbs to add early color to your garden!