Singapore Flower Festival
August 02
20,000 air miles to and from Singapore, judging an international flower show for 7 days in July in the 90's humidity and temperature was a new adventure to a unique green city, Singapore.  The Gardens by the Bay, with the Flower Dome and Cloud Forest, cooled conservatories, state of the art structures, with the Singaporean city as a backdrop, filled with green walls and roofs.  Tropical plants fill every area, at the airport to the street medians.  It is amazing to see orchids growing through street plantings, like annuals on steroids.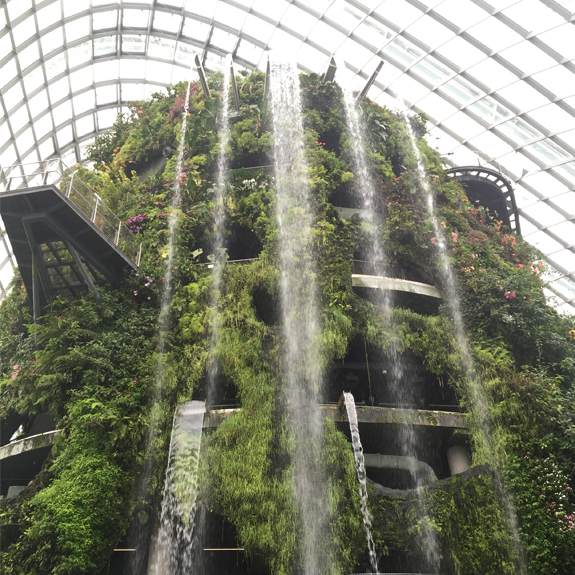 The show is sponsored and produced by the National Parks Board and supported by the Singaporean government with a greening commitment not seen in many parts of the world.  As an island state, the Singaporean President dedicated to making sure Singapore got it right, has turned Singapore into an experiment of sustainability, using horticulture to make it a place of environmental excellence for his people.  Singaporeans are friendly, speak English and have benefited from great leadership.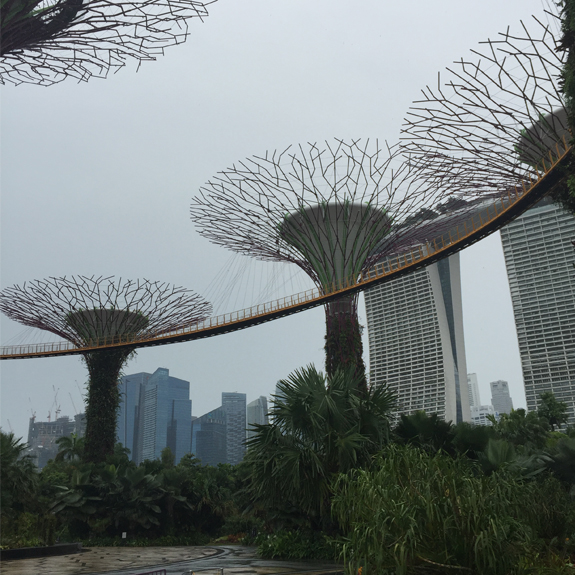 As a judge for the Outdoor Landscape Gardens, I joined Jim Gardener, Executive Vice President of the Royal Horticultural Society-RHS Garden Wisley, "Mr. Magnolia" with a plant knowledge and world view of horticulture , Chelsea Flower Show experiences and our head judge.  John Andrew from Australia , Landscape Architect , Garden Writer and Broadcaster, as well as garden tour leader of unusual and often unseen gardens around the world helped to form with my experiences exhibiting for 38 years at the Philadelphia Flower Show, a panel of as Jim called us "The Three Wisemen:"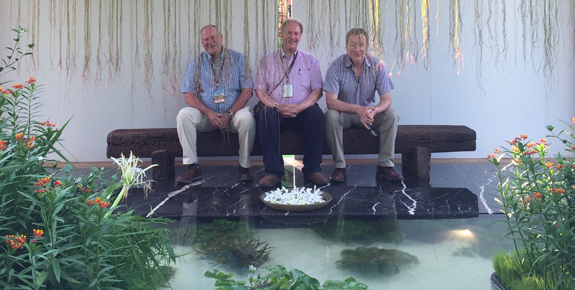 I had competed with three of the Landscape Garden Exhibitors when the Philadelphia Flower Show hosted them as International Designers.  Inch Lim Chong from Malaysia was awarded a gold medal, Best Planting Award, and Best in Show for his garden called The Treasure Box. A sense of calm response was experienced within the garden . Truly a great garden.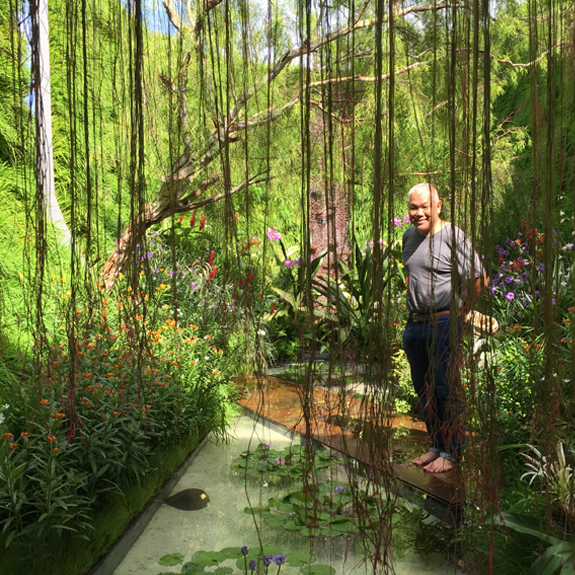 James Basson, from Monaco received a Silver Medal for his blue boulder garden filled with plants from France, shipped to Malaysia in a cooled container.  James always pushes the envelope with design creativity, and it was amazing .  Taking risks, shipping plants from France to the tropical outdoor show was to be applauded.  Also taking some risks was Leon Kluge, who won Best in Show in Philadelphia and created a gold medal garden grown from seed that his contractor grew for 4 months before the show.  He also won the night lighting award. Well done.  Yamaguchi Yousuke , a regular person who is trying to be a "Japanese Master Gardener" was awarded a gold medal as well for a tea garden .  The final gold went to Adam Frost who also won the construction award for perfection in detail .  His planting used tropicals selected for looking like an English planting palette was well done.  Reminded me of "The Chelsea Look" except in Singapore.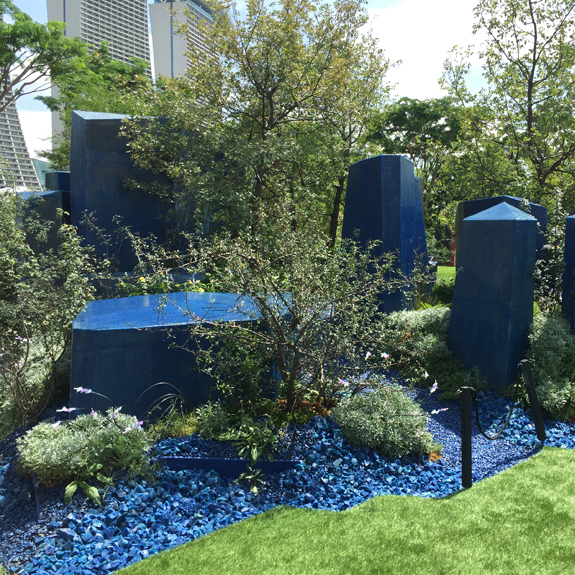 There were other exhibitors who were on the international stage for the first time,  Alison Douglas who did an inspired garden called "Butterfly Effect" won a Bronze for a great garden .  She struggled with a local contractor staging the exhibit, learned much and will, I am sure continue to exhibit , internationally and achieve gold soon.  As a young exhibitor, myself-38 years ago, I know how we all grow and develop as designers , in the real world and as International Designers.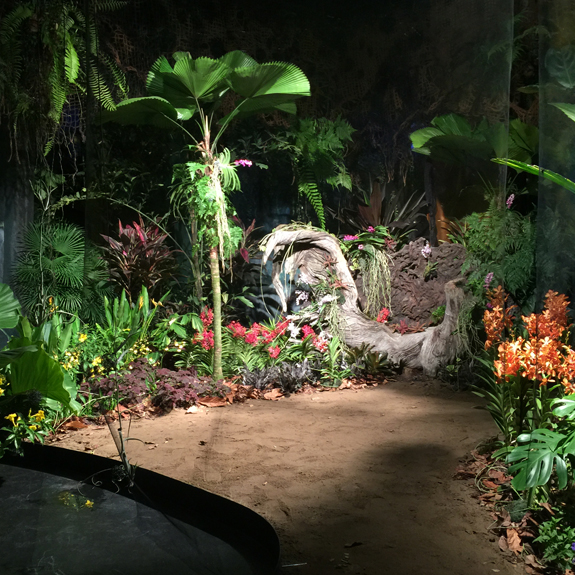 It was welcoming to see my good friend Michael Petri when I arrived in Singapore.  His garden In the Fantasy Garden category won a silver, as always creative genius that he is, his garden was a masterpiece.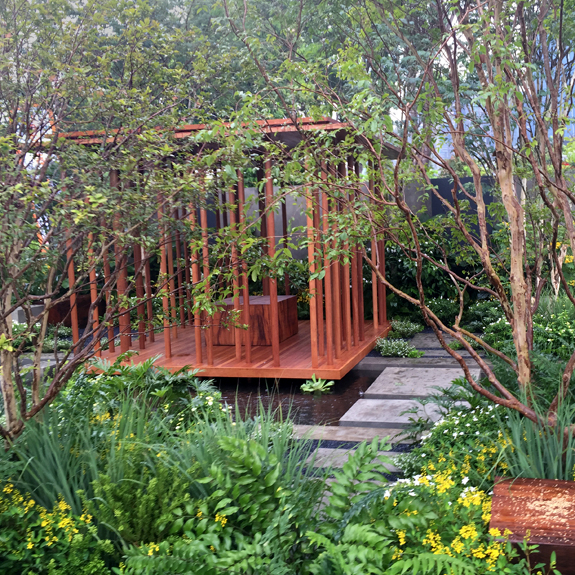 As we prepare for our 38th Philadelphia Flower show major Landscape Exhibit, lessons from Singapore, it may lead us to our Eighth  Best in Show award at Philadelphia.  Since the show has joined the International Flower show stage, as a leader in horticulture and design , the world of landscape design improves worldwide.  At the age of 70, my love for gardening excellence continues to grow, learning and discovery encourages us to be a part of a sustainable future.
Jack Blandy