Gold Medal Exhibit!
March 15
Stoney Bank Nurseries has been awarded a Gold Medal for our landscape exhibit at the 2017 International Philadelphia Flower Show.  We've also received the coveted Kate and Robert Barlett, Jr. Award for best us of trees in a landscape and the PHS Council Trophy for the most accomplished display of forced plant material.
The annual flower show, produced by the Pennsylvania Horticultural Society, opened to the public on March 11th and will continue through Sunday March 19th.  We celebrate this year's theme "Holland: Flowering the World" with a display that combines traditional espalier trees and blocked perennial plantings with Dutch New Wave Design.
"Contrasting Cohesion" celebrates a historically rich country that has notoriously embraced modern technology throughout its development, bringing order to a land below the ever-encroaching sea.  Traditional gardens framed by tree hedges, structured by trimmed boxwood, and enlightened through blocks of colorfully blooming perennials, reflect the high organization necessary to keep nature at bay.  Continuously embracing modern advances, Dutch New Wave Theory design puts a spin on traditional gardens, embracing lower maintenance plantings, allowing perennials and annuals to naturally seed and intermingle where they best thrive.  Our garden is a contrast of control and nature's disorder lines –  a balance of the wildness of nature and the order of culture.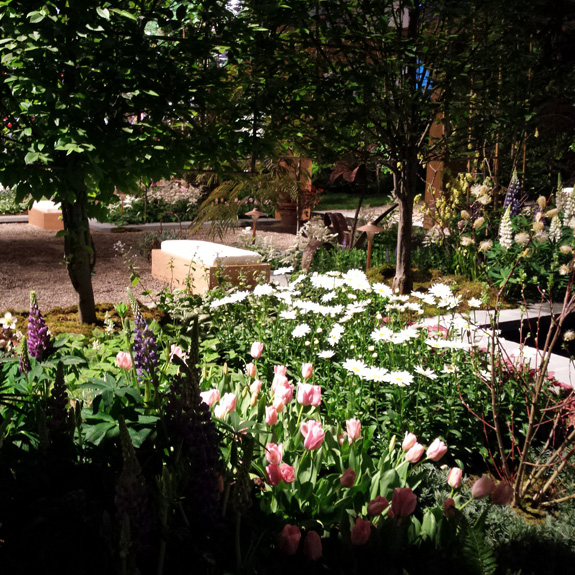 Stoney Bank Nurseries is proud to be celebrating our 38th consecutive year at the PHS Flower Show.  Many hours of design, plant forcing, and construction go into making our display a spectacular event.  We enjoy giving flower show visitors new ideas for their home landscape and a taste of the Spring that is to come.
Don't let the recent snow get you down!  Look for our designers at the show floor!  We'll be happy to discuss any details about the exhibit you would like to know.  If you come by while we're away, feel free to send us an email or post a message on our Facebook page!