Oh the weather outside is frightful, but plants are still delightful!
December 09
Blooms are a bit hard to find during winter's gloom, but colorful berries, stems, and grass heads abound!
Winterberry hollies (Ilex verticillata) are real show starters for winter.  'Red Sprite' is a good compact form with a rounded habit that will reach 3'-5' in height.  Use the male pollinators 'Jim Dandy' or 'Apollo' for a good fruit set.  Not a fan of red?  'Chrysocarpa' is dotted with yellow fruit and 'Winter Gold' adorns its branches with orange berries.
For something unusual, look to our native American Beautyberry (Callicarpa americana).  A large shrub, capable of reaching heights in excess of eight feet, is gorgeous when covered by clusters of small purple berries.  'Lactea' is a white fruiting cultivar that is also available.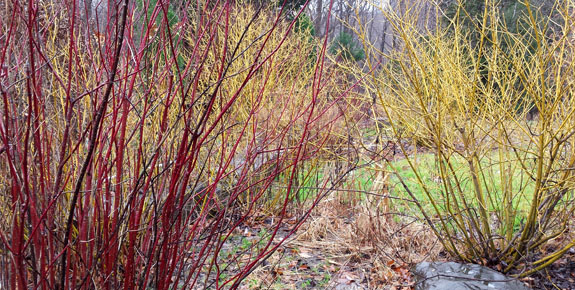 Cornus sericea wait all year for their moment to shine.  Stems turn bright red and add quite a pop to a drab landscape.  'Flaviramea' is just as stunning with its yellow stems.
Select grasses that are known to retain their shape and not flop open during the first snow fall.  Panicum virgatum 'Northwind', Andropogon virginicus, and Calamagrostis 'Karl Foerster' are just a few of the many grasses to retain their upright habit.  To help out less sturdy grasses, consider staking and tying grasses in the fall to give them extra support.  Seed heads will provide much desired winter interest for you, and much needed food for hungry birds.
As tempting as fall cleanup is, wait to cut back perennials with seed head until spring.  A light snow dusting on top of spent flower heads will create an opportunity for some detailed plant photography.  Beneficial garden insects will also appreciate the remaining plant material as a good, cozy, protected haven from the winter weather.
Selecting plants with winter interest will extend your garden's season and make your landscape eye enticing year round!