Warmest December Test Flower Show Growers
February 11

When the hottest year on record – 2015 – was capped off with the area's warmest December on record, no one was feeling the heat more than Lloyd Traven.
Traven owns Peace Tree Farm, a Kintnersville, Bucks County, nursery that's one of a handful of local operations tasked with manipulating thousands of bulbs, perennials, and trees to burst into a synchronized show of blossoms and foliage out of season, but just in time for the March 5 opening of the PHS Philadelphia Flower Show.
That work, known as "forcing" plants, is accomplished with carefully administered doses of fertilizer, light, and heat. But, for many trees and perennials, a prolonged cold spell is critical to kicking off that cycle – and earlier this winter it just wouldn't seem to come.
"This was an extraordinary fall. It was so warm through to New Year's, and things like roses and clematis that would normally get enough cooling just simply were not. So we're scrambling," Traven said. "There are crops we have right now that we're unsure whether they're going to bloom in time for the Flower Show. It's definitely been a dance this year."
The show is themed "Explore America," in honor of the centennial of the National Park Service. Guests will enter through the Big Timber Lodge, a wood-and-stone structure surrounded with floral takes on totem poles, a 12-foot waterfall, and a landscape meant to evoke the forest's edge in springtime: a blanket of crocus, grape hyacinth, and echinacea below evergreens, birch trees, ferns, and shrubs.
Glen Mills' Stoney Bank Nurseries, a longtime presence at the Flower Show, is one of the only exhibitors that still forces its own flowers. Joe Blandy, president of the company, said he was worried in December and early January. Now, though, he thinks the company's on track to produce a stunning rendition of post-wildfire Yellowstone, showing burned trees and new growth in the form of evergreen and deciduous ferns, shrubs and wildflowers like cosmos, poppies, black-eyed susans, and ammi, a Queen Anne's lace look-alike.
The nursery is also on track to produce plants for a number of other exhibitors, including large volumes of lupines, a notoriously difficult-to-force flower, for J. Downend Landscaping's rendition of Acadia National Park in Maine.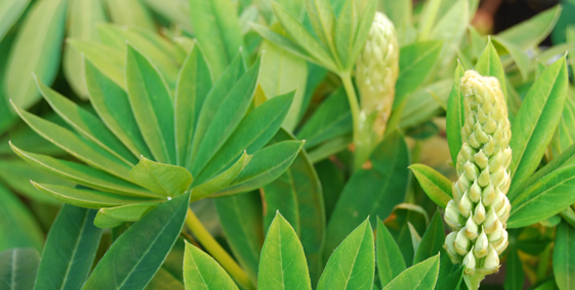 After 37 years of Flower Shows, Stoney Bank has a well-tested "forcing bible" with data on how to treat each plant. Of Stoney Bank's eight greenhouses, six are used for forcing for the show: Three are kept very hot, two warm, and one cold. Plants are moved between them to speed or slow buds.
Still, there are variables. "The cool greenhouse is at the mercy of mother nature. If it's warmer than normal outside, then we run into problems because then we can't cool azaleas that are coming on too quickly," said Hannah Deputy, a landscape architect at Stoney Bank.
The nursery also has a cooler box – a refrigerated trailer – for chilling shrubs and perennials. Trees won't fit, though. At one point, Deputy was worried enough about the trees that she counted the nights this winter when the temperature dipped below 32 degrees. There were about 40 of them.
"There were a couple things that needed that dormancy requirement and we weren't sure they had it," she said. "Thankfully, we had enough."